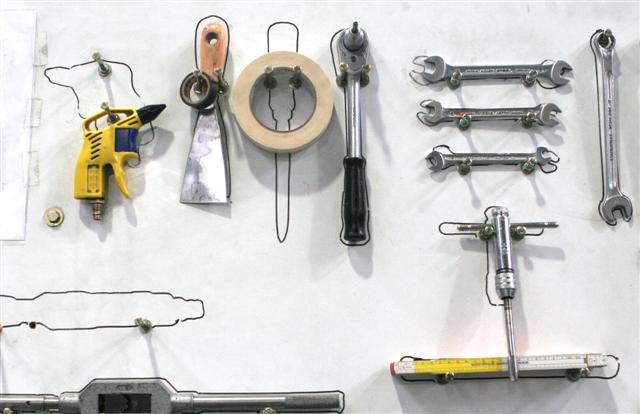 This photo could have been taken anywhere, in any factory I have ever seen. The fact that I do not have to describe what is out of place is a credit to the visual control. It is obvious. But one of my Japanese sensei's once said "A visual control that does not trigger action is just a decoration."
What action should be triggered? What would the lean thinker do?
The easy thing is to put the tape where it belongs.
But there is some more thinking to do here. Ask "Why?"
Why is the tape out of place? Is this part of the normal process? It the tape even necessary? If the Team Member feels the need to have the tape, what is it used for? If the Team Member needs the tape there has the process changed? Or did we just design a poor shadow board?
That last question is important because when you first get started, it is usually the case. We make great looking shadow boards, but the tools and hardware end up somewhere else when they are actually being used.
Why? Where is the natural flow of the process?
Before locking down "point of use" for things, you need to really understand the POINT where things are actually USED. If the location for things like this does not support the actual flow of the normal process, then you will have no way to tell "the way things are" from "the way they should be."
The purpose of 5S is not to clean up the shop. The purpose is to make it easier to stand in your chalk circle and see what is really happening. The purpose is to begin to ask "Why?"
By the way – if you see an office chair or a trash can being used as an assembly bench, you need to spend a little more time in your chalk circle. 🙂