This sub-assembly line had a planned cycle time of 15 minutes. The most skilled and experienced assembler could almost get all of the work done in that time, but generally, two people were required to consistently deliver without stopping the main line.
Among other obstacles identified, the first assembly step was being done on a bench. This required the assembler to stabilize the main part with one hand, position the part being installed with another hand, and hold the tool with… you get the idea.
The idea was to design and build a jig that would hold the main part steady, in the right orientation, at a good working height.
Iteration 1: Mock up the concept.
Rodney (the lean manager) and Maegan (the line team leader) are showing their first iteration of concept.
But even before this, their real first experiment was to hold the part by hand and test where it needed to be stabilized. The cardboard mock-up was a confirmation.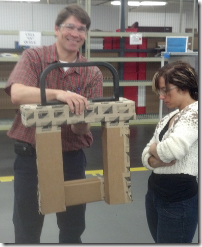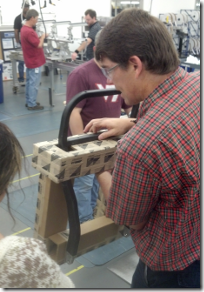 Iteration 2:
They experimented with contact points and hold points and made a few adjustments…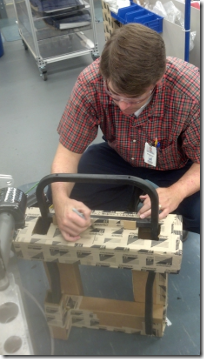 Iteration 3: Have a more robust version made out of wood, try it with an actual part.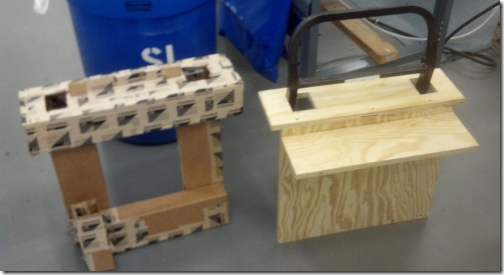 Learned: The part isn't stable enough to work on.
Next experiment: Add a clamp, and mount it to a tool stand.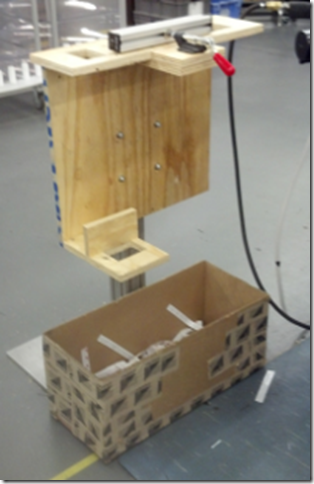 Then Maegan tries it out.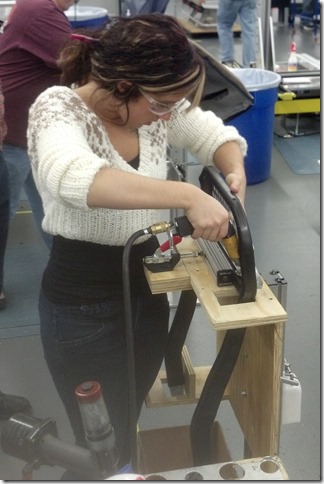 What did we learn?
It is difficult to get the tools behind the clamp bar.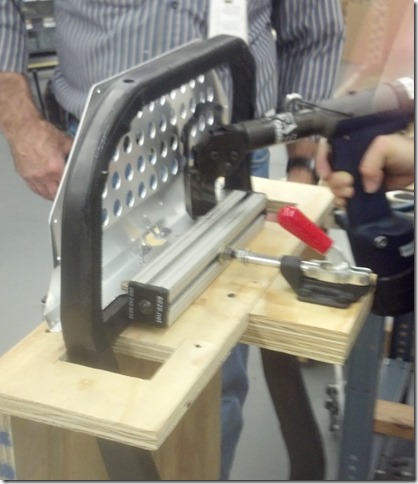 Iteration 4:
Add some wood shims to raise the part and see if that works better.
Expected result: Should be easier to get the tool in there. Now try it.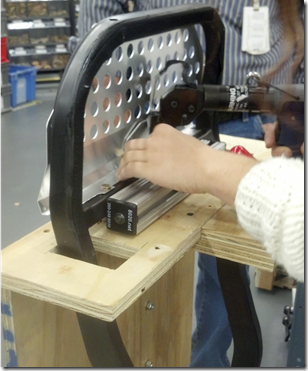 But we learned we need a better backstop for the clamp.
Iteration 5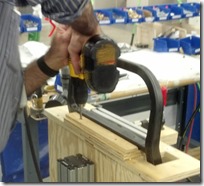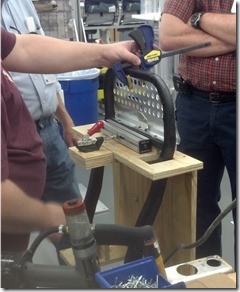 Which seems to have done the trick.
This, plus a couple of other changes, got the cycle time under the 15 minutes, so one person could do this job.
All of this happened over less than a couple of hours. A far cry from the traditional tooling and jig design process.
Follow-Up:
This is the final version. As you can see, there is now a wedge under the clamp to change the angle + some additional clamps that allowed the tool to also be used for another subsequent operation.