Now and again someone wonders out loud why, in this lexicon of Japanese terms, we have the word "takt."
I had always passed along what I had heard – that the word was German, short for taktzeit and used in their factories to represent the pace of production. During WWII, the Germans had helped the Japanese set up more efficient production lines, and the word migrated into Japanese usage.
All of this had been anecdotal.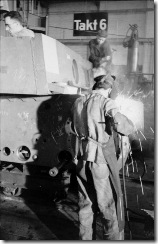 But today I ran across Alan Hamby's phenomenally in-depth reference site on the German WWII Tiger Tank. Alan has extensive detail on the Henschel Tiger Tank Factory, and in some of the photos are signs indicating the number of the "takt" or production position.
But don't stop here. Take a look at Alan's site, and look at how this factory is set up and operated. This plant was set up to produce a Tiger I tank every six hours, and built a total of 1375 of them between 1942 and early 1945. Yes, there is a lot of waste, but bluntly, I have seen 21st century factories making products of similar size and complexity that are far worse than this.
The idea of pacing and balancing production is not new. By the time these photos were taken around 1943, the concept had been proven for over 20 years. Yet when I visit factories today this is a seemingly novel concept. I always wonder why today's operations managers are not insisting on at least the efficiencies that were achieved by 1935.
Thanks to Alan for his kind permission to bootstrap from his research and use these rare photos here.
Just to be clear, though, having a pace for production does not make a line "lean." Far from it. But it is a foundational element. It may not be sufficient, but it is (in nearly all cases) necessary. What makes it foundational element for improvement, however, is not so much the pacing and balancing aspect. Rather, the concept of takt time can be used as a way to structure improvement goals and targets in a way that is meaningful to the people doing the work.
We talk a lot (all to much, in my view) about metrics, but tend to think of the things management is interested in – like labor productivity. But the way you get labor productivity is to focus on the takt time, the total cycle time, and the stability of that cycle time. Those are the things that determine how much gets done by how many people. You can measure "labor productivity" all you want, but you can't change it unless you get down another couple of levels. Fortunately (for us) Reichsminister Speer didn't figure that out.
By the way, just to put things into perspective:
In 1943, Boeing Plant 2 was producing one B-17 bomber an hour, sixteen planes a day, six days a week. They did it by using a paced assembly line and continuously working to simply and improve the flow.