I am looking at a visual status display board. It has all of the usual things, safety information, 5S audit score, quality metrics.
The quality metrics display is pretty typical – there is a target trend line heading down, and a provision for bars representing actual. There is only one bar right now – it looks like this: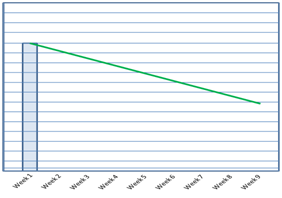 Clearly there is a target for next week that is lower than the results from this week.
Equally clearly is a desire to reduce defects by about half over a couple of months.
This is an effective way to display results.
But results of what?
As a manager, when I look at this board, there is one critical thing that is missing:
What are we doing to impact the outcome? What problems are keeping them from reaching the target now?
What problem are they working on at the moment?
What do they understand about that problem?
What reduction do they anticipate achieving if that problem is solved?
In a "Problems First" culture, we want focus to be on what problems we are working on right now. The results follow.
Even if the bars were marching along, ever lower, under the trend line, I am not satisfied unless I can understand why. What problems are being solved? Are they being solved the right way? Because I know it is impossible to measure yourself into different performance, I have to seek out understanding of what, exactly, is impacting these numbers. To do otherwise is to neglect my responsibility to verify that the issues are being addressed in the right way.