If you are in a production operation, be it a factory or even administration, take a look in your scrap bins (or trash cans). What you find there can be very informative.
Is all scrap treated the same? In a lot of metal working operations, I see routine drop scrap mixed in with scrapped parts and products – things that were not intended to end up there.
If that is the case, what does it tell you about the attitude around scrapping a part? Is it routine, just part of getting the job done, like drop scrap?
If you find a scrapped part, can you find the defect or flaw that caused it to be unusable? How much work (and cost) was added after that defect was created? All of that is additional cost that added no value.
Was it painted? Partly assembled? Did it go through a bottleneck operation and consume capacity of the entire factory?
What about your trash cans or recycle bins in the office?
Do you see signs of frequent paper jams in printers and copiers? These events suck time away, and more than just the time to clear them. They cause a mental shifting of thought pattern away from the productive work that takes additional time to recover.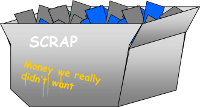 Here are a couple of thoughts.
Separate the routine drop scrap from bad parts that were supposed to be good parts. If you sacrifice parts to adjust in changeovers, separate those out into their own category.
Each of these is a different line of inquiry starting with the question "Why?"
Consider taking your bad parts from the last 24 hours and bringing them to a central location (or a location in the department). Conduct a "morning market" and get to the bottom of at least a couple of the root causes. You don't have to solve all of them at once, just pick one and drive it to ground. Then another.
Scrap is not simply a material and time waste. It is a reflection of how well you really understand your processes.