The common frustration in the weeks following a classic 5 day "kaizen event" (which go by many names) is that the follow-on actions are not completed, and the changes that were made erode quickly.
Recently I have asked myself why it works so well during the actual workshop, and then fades so quickly afterwards.
Mike Rother has a great graphic that starts this conversation: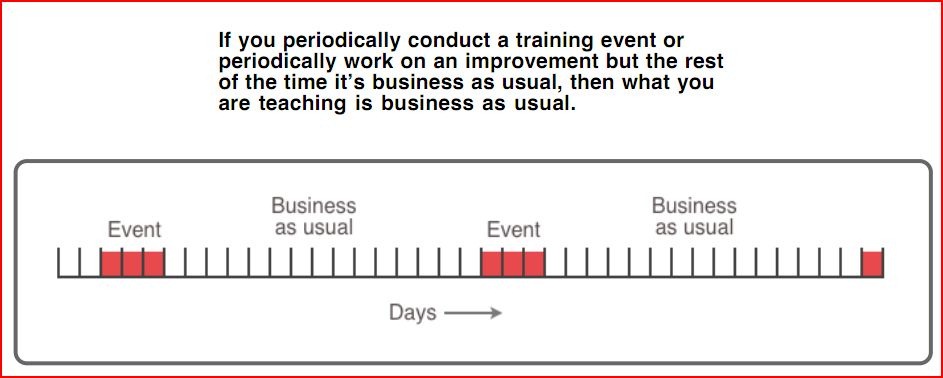 The question I am exploring today (and bringing you along as I reflect on it) is "Why do the 'lean tools' work so much better during an event than during "business as usual?"
Hanging this on my current working theory, I think it comes down to different patterns of interaction.
What Happens During the Event
Look at how the structure of these events drives how people interact with one another.
The workshop preparation usually involves establishing a clear bigger-picture sense of the problem to be solved. Even if it isn't specific, the team education establishes a sense of direction, typically toward 1:1 flow at takt, and a pull process that limits lead times.
The structure of the workshop itself has the team working together studying the current flows, seeing the problems for themselves, and working in pairs or small groups on proposed solutions.
Those proposed solutions are usually structured as experiments – "let's try this." At the end of a typical day there is some kind of structured reflection on what we tried, what we learned, what we are going to try tomorrow, and what we expect to achieve.
So – we have small groups of people, collaborating to solve a specific problem, running experiments and learning what will work.
Unfortunately the team usually comes up with more ideas than they can actually try out. Those end up on a to-do list for follow-up.
After the Workshop Week
There is a fundamental shift in the dynamics after the pizza party on Friday.
The team members go back to their regular jobs. The problems they are focused on are different. The leftover items from the workshop are added to the "stuff I need to do" list that nearly everyone in every workplace has.
Rather than continuous collaboration, there might be periodic meetings to talk about the status of these "action items." But there isn't specific time carved out to work on them.
If this is what happens then "Business as Usual" couldn't be more different than the working structure that created all of these improvement ideas. Business-as-Usual is not creative, does not allow for experimentation, and is optimized for repeating what we already know vs. learning something new.
I'd like to point out here that I have seen exactly the same situation in companies that many others consider "lean" benchmarks. What I saw in those companies was a much heavier infrastructure of dedicated lean specialists who were doing the heavy lifting. It still wasn't embedded in "business as usual." Instead it is a parallel process that is running improvement events about as fast as the day-to-day processes erode the improvements.
In fact, to this day, after being after this for two decades, one of those companies still has to hire "lean experts" from outside. Why? What is the business-as-usual day of a supervisor that they never learn this stuff?
In summary: During the kaizen even week, we organize and interact in a way that works for creative problem solving and making improvements. Then, the next week, we stop.
It shouldn't be a surprise that the dynamics shift from "experiment to solve the problem" to "get this stuff done." Business-as-usual is represented by "get this stuff done."