In Western business it is pretty typical for someone to be assigned to come up with a proposed solution to a problem, and then seek approval for that solution. In some companies that consider themselves more forward thinking, they might even say something like "bring me an A3."
As a result I have seen a number of organizations that produce some kind of guideline for "how to fill out and A3." They teach "problem solving" courses so people can learn to do this properly. I have developed, and delivered, a couple of those back when I was working in internal continuous improvement offices. We had case studies, exercises, all in an effort to teach people to be better problem solvers.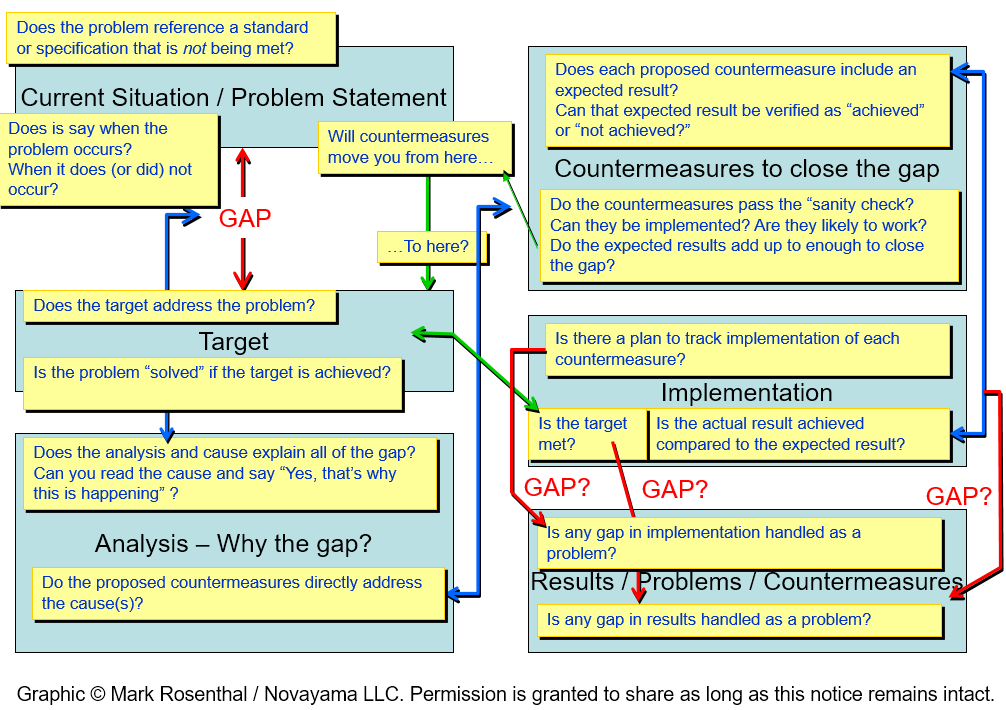 Similarly, a (very) long time ago, I recall an exchange on an online "lean" forum where someone had asked about Toyota's "problem solving class." The thought was that because Toyota has good problem solvers, that their course must be really good.
My response was that I have a copy of Toyota teaching materials for a problem solving course. It is good, but nothing magical. Because that isn't how Toyota develops good problem solvers.
They do it with coaching.
What makes the "A3" process work isn't the A3, or even the structure. It isn't the instructions, guidelines, or the quality of the problem solving classes.
It is the almost continuous interaction between the problem solver and the coach.
The problem solver's thinking is challenged. "What evidence do you have?" "Have you tested that assumption?" "How is that happening?" "Why do you think that is the problem?" "What are you planning for your next step?" "What do you expect to learn?"
And it is the coach's stubborn refusal to give the problem solver the answer. Rather, they insist on following the rigor of the problem solving process using scientific thinking.*
The process is an application of the principle of "Challenge" followed by support to enable the problem solver / learner to meet the challenge. They have to bring perseverance to to the table, but the coach is there to make sure they actually learn to be better problem solvers in the process.
Likely (if you are reading this) you already know that. We knew that when we worked so hard to make those A3 guidelines and problem solving courses. But we did those things anyway.
Why? Because it is easier to develop and deliver those general class materials than it is to develop managers into coaches and leaders.
But the fact remains:
If you want to develop better problem solvers, what you need are better coaches.
The implications here are really profound for most organizations.
If you assign someone to solve a problem, to "do an A3" (or whatever structure you use), you are obligating yourself to coach them through the process.
This is far more than getting status updates. And it is far more work. Because you are teaching, not just supervising. If they fail, it's on you, not them. "If the student hasn't learned, the teacher hasn't taught."
In Toyota Kata world we have reduced those questions down to the critical few in the Coaching Kata. That, of course, is a start. Your job as a leader is to practice until the flow of the logic is second nature to you, until you can go beyond the script. Until your first-nature, reflexive response to anyone proposing to do something is "What problem are you trying to solve?" or "What are you trying to learn?" and then carefully listening to their logic and pushing them to the edge of their ability with the next step.
When you can take your own coaching training wheels off, you can then (and only then) ask someone else to ride a bicycle for you, because you will know how to teach them to ride – and that involves more than sending them to a PowerPoint lecture on "Riding a Bicycle."
"Because knowledge is not understanding" – Destin Sandlin.
———
*Some years ago I worked briefly with a manager who had been one of the key players in Toyota's initial startup of their plant in Kentucky (TMMK). He told me an interesting story. In the beginning, he noted, the U.S. managers would go to their coordinators (Japanese Toyota senior leaders there to advise the new team) and ask for advice.
Then one week all of the U.S. team went through the problem solving / A3 course. The following Monday, he went to his coordinator with a question, and the response was "Doug-san, where is your A3?" After that day, the coordinators would not engage unless there was an A3 that outlined, in writing, what the manager already understood about the problem, what he was seeking to learn, and how he proposed to go about learning it.
Think about that story vs. sending people to "problem solving class" or even a "Toyota Kata" class. When they return, do you insist that they apply what they have learned whenever it is appropriate from that day forward? If you don't then you are wasting their time and your money sending them to that class. They will never develop the skill without practice, and it is always easier not to practice something we are not comfortable doing.