Andrea brought up an interesting point in our weekly open Toyota Kata discussion. She noted that as the coaching conversation became more and more fluid, it tended to become more like a report-out from the learner than coaching them. That got me thinking about a couple of things.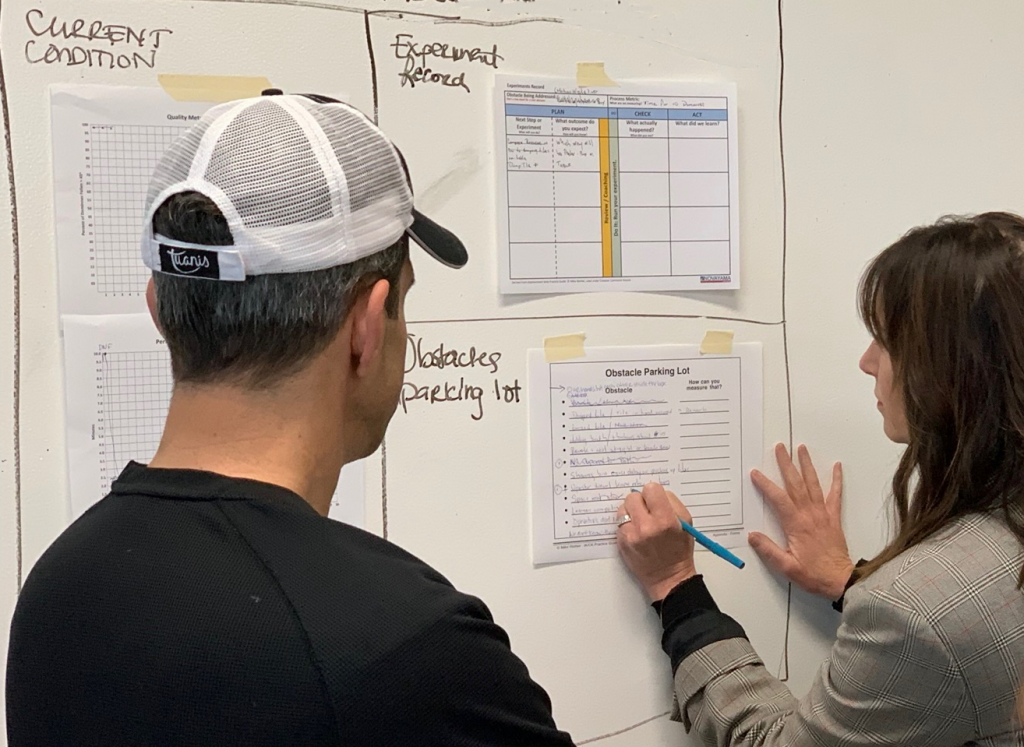 Reverse Coaching
Something I think I have talked about in the past is the technique of using the Improvement Kata structure to report out. In other words, report out progress (like in a meeting, for example) as though you were answering a version of the Coaching Questions even though they aren't being asked.
Review what we are are trying to accomplish.
Where we are now.
The last step taken, what happened, what has been learned.
The next step being taken, what we expect (or expect to learn)
It would be really simple, for example, to format PowerPoint slides in this sequence. I discussed this a little bit way back in 2008, before Toyota Kata was published.
My hypothesis here is that people would like hearing a report in that format, and the boss might well start asking others to do the same thing.
Maintaining the Coaching Structure
Of course I don't think this is what Andrea was talking about. It was the opposite. The learner is so familiar with the structure, and well prepared, so the coaching questions seem moot.
So what is a coach to do?
Here is my question:
Are You Challenging Your Learner?
When you are getting a report-out with little room for coaching this is actually a good thing. It means that your learner has developed and what may have been challenging in the past is now more or less routine.
Keep in mind that your learner has two thresholds of knowledge. One is around the actual process or task they are taking on. That is what is actually being discussed in the coaching conversation.
The other threshold of knowledge is around learning to tackle tough challenges with the scientific thought structure.
With beginner learners, both of these knowledge thresholds are pretty apparent. As a coach you are working to develop their thinking patterns, to make that scientific thought structure habitual. You do that by giving them challenges that take them a bit beyond their threshold of knowledge, and then coach them to apply scientific thought to take on that challenge.
As they get better, they will apply scientific thought to any problem they take on. Congratulations, Coach, it worked. You can tell this is happening when the conversation starts to sound like a report-out. What once was a tough problem is now handled routinely.
OK, Coach, Time to step up your game.
What challenge can you issue that would have your learner struggle a bit with grasping the current condition? Establishing a target condition? Figuring out what the obstacles are and isolating them? Developing good experiments?
In other words, how to you push your learner a bit beyond their threshold of knowledge of tackling challenges scientifically? Then you are back into the learning zone and both of you are operating at the next level.