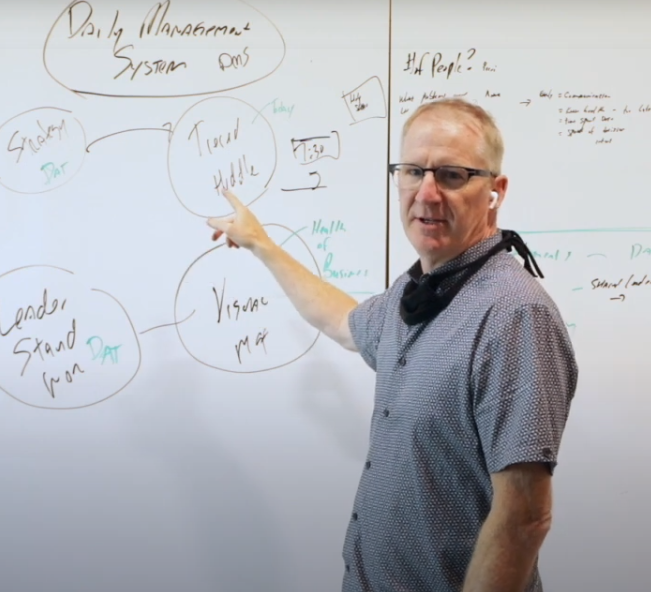 The people at Kaas Tailored in Mukilteo, Washington are friends, neighbors, and colleagues of mine. They have been a tour stop for people from all over the planet who want to learn more about their people-centric culture of continuous improvement.
Last year when the tsunami of COVID washed over all of us, their business faced an existential threat and they made a dramatic pivot to making medical PPE – masks and face shields. Their main motivation was "This is what our community needs right now." In fact, you might have seen a bit of their story as part of the PBS Frontline Coronavirus Pandemic episode.
Dramatic change reveals obstacles that may have been buried under the Old Normal, and this was certainly the case for Jeff Kaas and his team. The awesome part is that they doubled down on their effort to learn and practice Toyota Kata as a response. They needed better organizational alignment, tying their organization's philosophy and direction down to their day-to-day processes, and they used Toyota Kata to do that. I think they are emerging as a stronger organization as a result.
I mentioned in the opening that they have been a tour stop for many years. To further that end, they have worked hard to make that experience available online. What is cool about it is now it isn't necessary to travel to Mukilteo, Washington (about 20 miles north of Seattle) to see them. They can come to you.
So when they asked me if I would like to participate with them in a series of online events they will be presenting starting on March 24, 2021 my response was an immediate Yes. To be clear, my role is chiming in with color commentary, and perhaps being a little more in front when they start talking about Toyota Kata.
If you would like to participate, here is their registration page: