I am still digesting my experience at the Toyota Kata Summit (KataCon) and the TWI Summit but I wanted to reflect on one of the emerging themes, and some of the reactions.
One of the themes that emerged at both conferences – and to be clear, something I had a hand in influencing as well – was mechanisms for altering the culture of the organization. In other words, what we brand as "change."
This is what I would call an "advanced topic"
What is Culture?
Books have been written about "organizational culture" and trying to create models that define "it" in some way. In the end, I think they all come down to various ways of saying "how people talk to each other." This includes who talks to whom, and what structures and rules guide those conversations.
When we study "culture" we are looking at the groups' default patterns of interaction. If we want to change those patterns, we have to alter people's habitual behaviors. As I said in my KataCon keynote, This. Is. Hard. It is even harder when you are talking about group behavior vs. simply individuals.
Making Toyota Kata Work is Changing Culture
The point of using Toyota Kata is to practice and learn a scientific mindset. Getting an improvement storyboard set up that is focused on a challenge, and going through the Starter Kata of Grasping the Current Condition; Establishing the Next Target Condition; Identifying Obstacles; and Running Experiments Against Obstacles is a technically straight forward.
It is easier with an experienced coach to help you through it, but can be learned on your own if you are willing to be self-critical and persevere through things not working as well as you thought they would.
But beyond the scientific thinking pattern, we are also working to change the default behavior pattern toward one of working in Coach / Learner pairs on an ongoing daily basis. This is not the default mode of most organizations. (If it were, then Toyota Kata would be redundant.)
This means (to me) that, while actually practicing the Starter Kata is very important, getting people to do so in the first place often requires leading past the technical aspects. It requires altering the way people interact and work together.
Whose Work Is It?
Of course this is ultimately the work of line leadership, represented by the "advance group" or "steering team" or "shepherding group" or whatever you call them. Sometimes those people, too, have to learn a new way to lead and manage.
Leadership
The Kansas Leadership Center, whose programs are based on the "Adaptive Leadership" model from Harvard, defines Leadership as:
"The activity of mobilizing people to do difficult work."
They further assert (and I agree) that leadership is an activity, not a position.
I am bringing these things up because if we want an organization to begin practicing ways to engage one another differently, it is common to run into resistance. In other words, we must mobilize people to do the difficult work of changing their default thinking and routines of interaction.
In doing so, we will surface clashes of hidden values, senses of loss, anxiety and fear: Things which cause people to find reasons to opt out of participating.
Sometimes it isn't as simple as saying "Just follow the Starter Kata."
How to Deploy Toyota Kata
Actually the message of "adaptive leadership" has been present since at least the first KataCon back in 2015. One of the mantras that emerged that year was "Kata your Kata" – in other words, there isn't a clear-cut path that works every time. You have to learn your way into it as an organization, as a leader.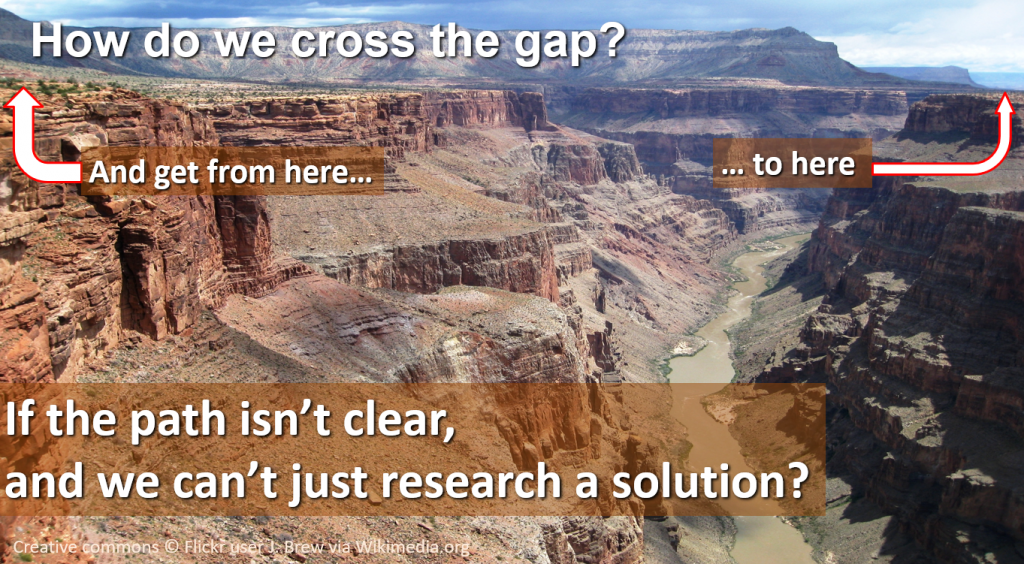 The difficult part is that this requires going in deeper than the Starter Kata, and applying the underlying pattern of Challenge; Current Condition; Target Condition; Experiments against Obstacles.
The pattern is the same, but this isn't about cycle time variation, it is about influencing (mobilizing) people, reaching agreements, encouraging them to "just try it" – in a process of discovering what works in that case, with those people, then doing it again.
A New Way of Working vs. Business as Usual
So… if we are going to get Toyota Kata out of the classroom, and past the first challenge or target condition into a sustaining, habitual process, we'll have to address cultural issues.
The skill set for this is different than a technical process change skill set. We'll have to learn our way through the grey zone for this part as well.
I'd love to see your thoughts and comments.