Almost three years ago I wrote "Don't Lose How To Make Things."
In that post, I wanted to emphasize the risks of losing your expertise in the technology and skill required to make your product. Too many companies today seem to be bent on replacing those skills with financial ones.
Today I came across a fascinating article on Bloomberg's site about how Toyota has come to the same conclusion.
You can read it here: 'Gods' Make Comeback at Toyota as Humans Steal Jobs From Robots.
In short, they have established workshops where workers manually produce parts that are normally made by automated processes.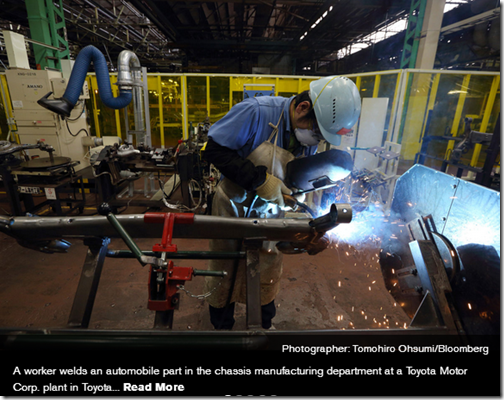 The idea is to maintain understanding of how things are made so they do not lose the skill required to improve their production processes.
"Fully automated machines don't evolve on their own," said Takahiro Fujimoto, a professor at the University of Tokyo's Manufacturing Management Research Center. "Mechanization itself doesn't harm, but sticking to a specific mechanization may lead to omission of kaizen and improvement."
One result?
In an area Kawai directly supervises at the forging division of Toyota's Honsha plant, workers twist, turn and hammer metal into crankshafts instead of using the typically automated process. Experiences there have led to innovations in reducing levels of scrap and shortening the production line 96 percent from its length three years ago.

Toyota has eliminated about 10 percent of material-related waste from building crankshafts at Honsha. Kawai said the aim is to apply those savings to the next-generation Prius hybrid.
Today's financially driven managers are unlikely to allow the space to experiment and learn. Instead, they want a deterministic process so next quarter's results can be forecast accurately. It isn't good to surprise the analysts.
At the same time, though, companies are pressing for things like "innovation." That doesn't happen in a breakthrough. It happens through the rigorous application of the skill of expanding knowledge. Once enough knowledge is accumulated, expertise develops and innovation follows.
Years ago, when I was working for a company making heavy equipment, one of our Japanese consultants (who had worked many years directly for Taiichi Ohno) urged our engineers to hand-form sheet metal parts – with hammers(!). We didn't do it. But now I understand what he was trying to get us to do.