I got a cool model kit of the 1903 Wright Flyer for Christmas, and am in the process of assembling it. Each wing (top and bottom) has two spars connected by 38 ribs. (To give you a sense of the size, the wingspan of the model is just over 30 inches).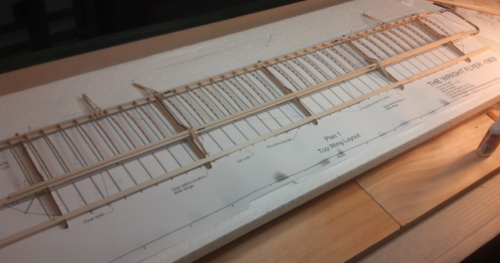 Each of the 38(x2) ribs requires the following steps:
Cut the laser cut part from the sheet.
Sand the ends smooth with an emery board. Fit check between the spar.
Sand the burned wood from the top edge with an emery board (outside curve).
Sand the burned wood from the bottom edge (inside curve) with a piece of fine sandpaper wrapped around a round hobby knife handle.
Sand the burn marks off the flat side with the emery board.
Glue the front end to the front spar.
Glue the back end of the previously done rib to the rear spar. (give the front glue joint time to set)
It was amazingly tempting to just cut them all out, the sand all of the ends, then sand all of the top edges, then sand all of the bottom edges, then sand all of the flats, then glue them all into place. That would have felt like it was faster.
But no matter what order I did it in, I had to repeat steps 1-7 38 times, there wasn't any way around that. And yes, I picked up, and put down, the tools and glue bottle 38 times by doing it 1:1. But I also picked up on mistakes that I had made only once, and could check and adjust my technique as I went to ensure everything was fitting together the way it should be.
I could also more easily cut things loose when a little glue stuck the spar to the jig. It's easier to get the knife under one stuck rib. (I only glued my fingers to the wood a couple of times, and only just a little. *smile*).
I know this is old stuff to most of my readers, but sometimes it is good to come back to the fundamentals and experience that 1:1 feels slower even though it isn't.