In my last post, If the Student Hasn't Learned…, I made the point (again) that sometimes trying too hard to impose a formal structure on a learner can impede their progress.
Since writing that, I have been doing a bit of reflection on my own development as a coach, and I need to give credit where it is due.
As any regular reader knows, I have been an enthusiastic student and practitioner of Mike Rother's Toyota Kata since I first read the book. I have written extensively about it in this forum. And I have made my own modest contributions to the practice. It has been over this time, and countless cycles of guiding beginning (and intermediate, and expert) learners through The Five Questions that I can hold the structure in my own head while not imposing rigidity onto others.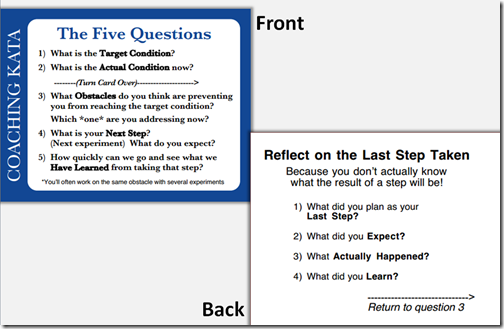 I will always default to using the formal structure because I think, in the vast majority of cases, it sets a better foundation. And even in those cases where I have to let go of the structure, that is a temporary countermeasure.
Once my learner is comfortable with the meta-patterns, then the structure follows, and makes sense to them. Some people learn that way, and I have to be able to pick that up.
I may have been an OK coach before all of this, I likely overestimated my ability at the time. Today, though, thanks to the Toyota Kata structure, I am becoming more comfortable with… not letting go if it, for I hold it in my own mind, but maybe withholding the framework and letting the learner fill it in more fluidly.
As we are boring down on the 10th Anniversary of Toyota Kata, and the 5th KataCon, we have a great opportunity to look at how the pattern that Toyota Kata teaches reaches far beyond process improvement and problem solving.
I will be speaking on the topic of Developing Leaders for Continuous Improvement on Day 1, and yes, we can use the same meta-patterns. Craig Stritar and I will be taking a much deeper look into the same principles in our Experiential Workshop. If you want to get a hands-on, reflective look at meeting your challenges as a change agent, come join us there.
In reality, the teacher learns by sharing and swapping experiences with others. I am not going to try to list everyone you will, and should, meet at KataCon here because I would surely leave someone's name off my list by accident. But look at the presenters and speakers. I know most of them and were I not presenting my own workshops and breakouts, I would be hard pressed to decide which ones to attend. You can't make a mistake here.