Note – this post was written pretty much simultaneously with a post on the lean.org forum.
Mike Rother has put up a compelling presentation that highlights a long-standing misunderstanding about the purpose of "standards."
Some time ago, a (well-meaning) author or consultant constructed a graphic that shows the PDCA wheel rolling up the incline of improvement. There is a wedge labeled "Standards" shoved as a chock block under the wheel to keep it from rolling back. That graphic has been copied many times over the years, and shows up in nearly every presentation about PDCA or standard work.
The implication – at least as interpreted by most – is that a process is changed for the better, a new standard is created, and people are expected to follow the standard to "hold the gains" while they work on rolling the PDCA wheel up to the next level on the ramp.
Slide 6 (taken from the book Toyota Kata) shows the underlying assumptions that are implied by this approach, especially when it doesn't work.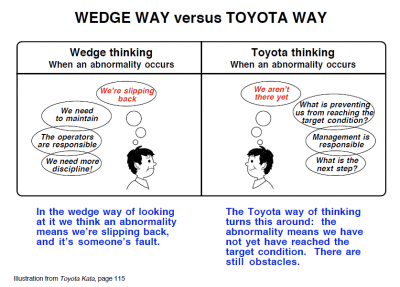 There are some interesting assumptions embedded in the "wedge thinking."
The first one is that "the standard can be 'held' by the people doing the work.
That, in turn, means that if when things start to deteriorate, the workers and first line leaders are somehow responsible for the "slippage" or "not supporting the changes."
With this attitude, we hear things like "Our workers aren't disciplined enough" or "How do I make them follow the standard?" The logical countermeasures are those associated with compliance – audits focused on compliance, and sometimes even escalating punitive actions.
Back in my early days, I had a shop floor team member call us on it quite well: "How can you expect us to hold some kind of standard work if the parts don't fit?" (or aren't here, or the tools don't work, or jigs are misaligned, or the machine isn't running right, or someone is absent, or we are being told to hurry and just get stuff out the door?)
This is the approach of control. The standard is fixed until we decide to change it.
Taiichi Ohno didn't teach it this way.
Neither did Deming or Juran. Neither did Goldratt. Nor does Six Sigma, TQM, TPM.
Indeed, if we want creativity to be focused on improvements, we have to look up the incline, not back.
We are putting "standards" on the wrong side of the wheel. Rother's presentation gets it right – the "standards" are the target – what we are striving to achieve.
The purpose of standards is to compare what we actually do against what we wanted to do so we know when they are different and so we have some idea what stopped us from getting there.
Then we have to swarm the problem, and remove the barrier. Try it again, and learn what stops us the next time.
The old model shows "standards" as a countermeasure to prevent backsliding, when in reality, standards are a test to see if our true countermeasures are working.
I believe this model of "standards" as something for compliance is a cancer that is holding us back in our quest to establish a new level of understanding around what "continuous improvement" really means.
It is time to actively refute the model.
If you own your corporate training materials, find that slide (it is in there somewhere) and change it.
If you see this model in a presentation, challenge it. Ask what should happen if something gets in the way of meeting this "standard."
"What, exactly do you expect the team member to do?"  That sparks an interesting conversation which reveals quite a bit.