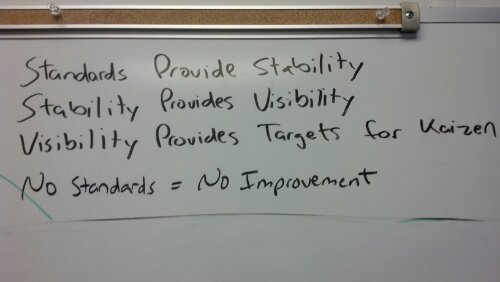 I saw this on a client's whiteboard this morning. (Actually I saw it a while ago, but just took the photo.)
By having a clear expectation about what is supposed to happen, they can work to converge the process toward some kind of consistency. The opposite is just accepting whatever happens as OK.
By having a degree of stability, it is easier to see issues and opportunities, that in turn, allow them to set the next level of standard.
He put it up there to remind him when he is distracted in the day-to-day fray that "What are we trying to achieve?" is the important first question to ask.
Remember, there is no dogma. Your choice of words and definitions may vary. But these work for him.