A friend, and reader, Craig sent a really interesting email:
As I was practicing the coaching Kata with one of the First Mates on the factory trawler, whenever an issue arose (usually with the leader blaming an employee) he began asking factory and engineering leadership "what needed to be communicated?" or "what needed to be taught?" He found it encompassed every problem on the vessel and I loved that he made it his own and communicated in manner to which lifetime fishermen could relate.
What I found really cool about this is how it is exactly the same conclusion reached by David Marquet, both in the sketchcast video I posted earlier, and the titles of two chapters in his book. The reasons leaders feel they must withhold authority, remain "in control" ultimately come down to competence – what must people be taught, or clarity – what have we failed to adequately communicate. Maybe it's being at sea.
In other words, if people know wh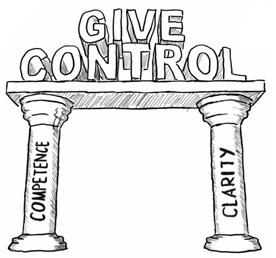 at to do (clarity), and know how to do it (competence), then leaders generally have no issues trusting that the right people will do the right things the right way.
The Improvement Kata  is a great structure for creating and carrying out development plans for leaders (or future leaders) in your organization.
The Coaching Kata is a great way to structure your next conversation to (1) ensure clarity of intent: Does their target condition align with the direction and challenge? and (2) develop their competence, both in improving / problem solving, but also in their understanding of the domain of work at hand.