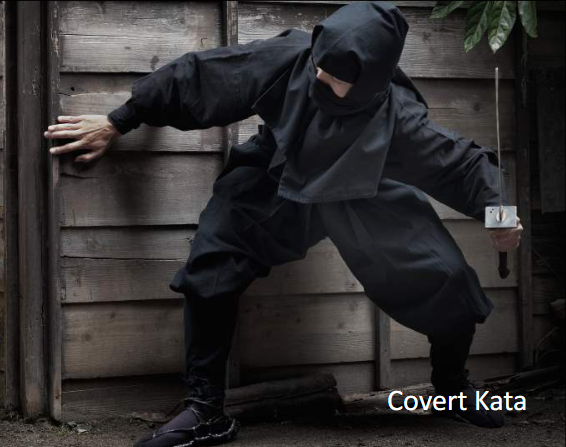 In his level-set / coaching demonstration, Steven Kane talked extensively about obscuring the jargon of Toyota Kata to defuse pushback.
Tracy Defoe had a separate brief presentation titled "Kata in Secret" – and this has been a topic of discussion in the weekly Cascadia Kata Coaches call that Tracy hosts.
The two cases were a little different. In Steven's case, he was (I think) talking about an organized effort. Lots of companies trying something new need to alter the jargon a bit. On a broader scale, there are quite a few companies where Japanese jargon will create an immediate wall of resistance, so why create the problem? Just change the words.
And I've certainly encountered cases where there was resistance to the very idea of any structure at all. Dealing with that took regressing away from the Coaching Kata and back to the more informal conversation that the Coaching Kata is teaching us to have.
Tracy's cases are a little different. She is collecting stories from often solo practitioners who are practicing Toyota Kata under the radar because they are perceiving career risks if they are overt. In one cases a leader was explicitly told not to use Toyota Kata because it ran counter to the corporate lean program. She did anyway.
While I find these stories interesting, I am not surprised by them. I have seen, and even advocated, this for a long time. I call it "camouflage." My principle is this:
Do the right thing, but make it look like what they expect to see.
In other words, there is no point getting dogmatic about something unless doing so advances your cause in come way. In still other words, don't let "being right" get in the way of what you are trying to get done.
For example – one company I have worked with for a long time got hard pushback from their corporate continuous improvement mafia office. "We don't have obstacle parking lots. We have kaizen newspapers." OK, fine. They labeled the obstacle sheet "kaizen newspaper" and just call it "improvement coaching" and everybody is happy.
The key is this: Don't dilute what you are trying to do. If you start moving away from developing a pattern of scientific thinking in the people you are helping, then you are letting the tools take precedence.