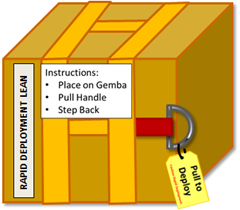 Lean In A Box
I can see where the promise of a rapid "lean transformation" is appealing. We shop around, listen to presentations, read proposals, and find someone with a good "solution."
For the next few weeks, maybe a couple of months, things move in a flurry. Lines are connected, visual inventory controls are established, your team is taught about the lean tools with simulations demonstrating the power of flow. Thus convinced, the team is expected to buy into the changes being made.
At the end, with much hoopla and pizza, we are done, and the new system is running.
The Grass is Greener – For a While
Now let me tell another story. It isn't my story, I heard it during a presentation by Jim Sorensen in Seattle. I'm sure he tells it much better than I will. Jim talks about his neighbor who has a fantastic, immaculate lawn. Jim recounts that, one day as he was chatting with his neighbor, shared a little envy – "I wish my lawn looked as good as yours." The neighbor's response was "Jim, if you had a lawn like mine, in three months it would look like your lawn does now." His neighbor works on his lawn. The immaculate appearance was important to him. For Jim? He chose to spend his time doing different things, which is fine. But at the same time, he, we, shouldn't expect an immaculate lawn to stay that way unless we are willing to do the work.
Likewise with these rapid implementations. To continue to metaphor, we rip out your old grass, put down beautiful fresh sod, take the photos, and move on to the next house. But if you don't fundamentally change the way you maintain that new lawn, by the end of the year, it will look like your old one.
You Are Transforming Your Culture
Continuous improvement as "the way we do things" is a fundamental shift in the way people think, and the way they spend their time. There is no "set it and forget it." Your processes are either improving or eroding. You must exert continuous active control by the people who are closest to the work just to keep up with the entropy. Their "buy in" is not even close to being enough to make it work. They need different leadership.
Many years ago I was interviewing at a Big Household Name Company that looking to accelerate their "lean deployment." They already had a guy with incredible qualifications working very hard to teach the things they needed to understand.
Every person that talked to me asked "How can we go faster?" My reply was "Listen to what [your lean director] says and do it. He knows what he is talking about." Unfortunately, he was telling them that there were no easy shortcuts, and that they had to begin thinking about production in a fundamentally different way. My feeling was they were looking for someone to tell them there was an easier way to do it.
I run into that a lot. An organization wants the results, they want the immaculate lawn, but they want someone else to do the work to make it that way, then they want the outcome.
The problem is you can't outsource your own thinking.